A long time ago, probably about a year ago, some of my friends started getting into Pinterest.  I got an account, used it for a few days on my desktop computer, and promptly forgot all about it.  I very seldom have time to get onto the desktop, so Pinterest wasn't very useful (I can't access the site at work either – well, I can't sign into my account at work.  I can browse).
When I got sick a few weeks ago, I was laid up on the couch and got my laptop up and running again.  Oh, guess what, Pinterest on a laptop…much more practical.  And, even better – Pinterest on a smart phone.  This last one is awesome, especially when I have a 5 minute incubation or a 10 minute spin at work.  So, needless to say, in the past few weeks, I've been pinning left and right.
But, and here's the real kicker, I've also started putting those pins to use.  Here's a couple of things I've tried – these particular ones are all kid related – and an evaluation of each, as well as the link to the original site.
First, we tried to make bathtub crayons using shaving cream.
It didn't really work.  Charlie couldn't draw with the dyed shaving cream.  However, it was super quick to make and she had a great time playing with it.  It also cleaned up very easily which is always a plus.
Next, we made play-dough.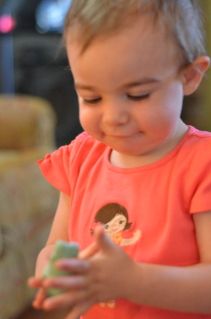 This recipe worked super well, as long as you cooked the dough until it was not shiny at all.  If there was any hint of a shine, it was too sticky to play with.  And, it makes a ton.  I have it stored in plastic containers and only give Charlie a small amount at a time to play with.  She loves it.  She even gets it off the table herself and asks me to open it.  "Doh" she calls it.  And, we haven't made any Homer Simpson jokes as of yet.
The next thing we tried was homemade finger paints.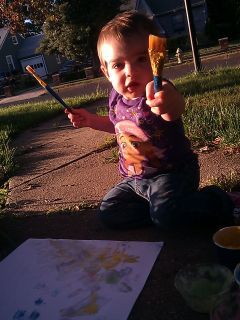 The recipe made a lot in a short amount of time and I was able to store it in those cute little containers from the dollar store.  However, when you actually used it on the paper, it was only  ho-hum.  The colors were faded and dull and mostly looked like water on the sheets of paper.  Charlie had a good time making a mess though.  By the way, I used bright Wilton Dyes, not regular food coloring dyes for these paints.  I thought it would make the colors brighter, but unfortunately it didn't.  Oh, and the brushes – Charlie didn't want to put her fingers in the gooey paints.
The final thing we've done, that I have pictures of right now, is to do finger painting over a taped on message on a canvas.
We did this this evening.  Charlie loved it.  She didn't want to touch the finger paints, so it was brushes again.  However, she did decide to do finger prints using water colors – you can see these on the edges of the canvas.  She wanted to keep painting, so we moved over to a sheet of construction paper.  Then I had to hang them both up to dry.
They look great!  This was a really nice activity to do and kept her busy for a good 35-40 minutes.  Perfect before getting ready for a bath tonight.
All in all, I'm enjoying going through the stuff on Pinterest.  It's giving me a lot of ideas and Charlie is definitely getting to let her creative flag fly.  I'll be sure to post more of the stuff we work on.  If you want to follow me on Pinterest, I'm there under Shannon Lea (shannonlmp).  Lots of kids stuff, craft stuff, and knitting/crochet patterns.